A Traffic Policeman has been among the five students who were awarded scholarship by Rajiv Ruparelia to study at Victoria University.
The five students include: Feddy Akello, Sylvester Lulenzi, David Siya, Moses Ssemitego and Swabrah Mbawomye.
Statement:
TODAY, as Victoria University plans to fully re-open for the new academic year, allow me thank you for having spared time to be with us here on this press conference. Like many Universities, Victoria University plans to re-open its doors on March 1, 2021.
Our opening of the University will come a couple of weeks after our 5th graduation ceremony, slated to take place on February 19, this year.
The graduands are part of a unique team of students who have attained quality education which cannot be equaled by any University in the region; owing to the fact that our training is grounded in experiential and authentic teaching.
Experiential learning is where training of students is done through a student's experience, and is more specifically defined as, "learning through reflection on doing". It is much more than what they call hands-on learning.
Hands-on learning can be a form of experiential learning but does not necessarily involve students reflecting on their product. In this, we also pay attention to the product. You can as well, take this to another level; and call it Authentic Learning.
Authentic Learning Education is otherwise referred to as Big Picture Learning (BPL), and it focuses on learning by doing. Students do real things, build products, make presentations, collaborate; just like in real-world occupations and professions.
This is the first University in this country, which has its programmes all entirely written along this line of Authentic Learning. We are privileged to be part of a Group of 40 other companies under the same ownership.
The sister companies, and hundreds of other partner companies and organisations, are a perfect ground for the training, internships and possible job placements for all our students we release to the job market every year.
Based on this fact, the University is intentional, in ensuring that students not only go for good and credible internships, but also get retained by the leading employers in the country. Alternatively, by the time they leave us, they are well skilled, to start their own businesses. In this University, we cultivate ideas, celebrate diversity, foster entrepreneurship, seek excellence, and also impact communities.
The basic idea is that students are more likely to be interested in what they are learning, more motivated to learn new concepts and skills, and better prepared to succeed in their careers if what they are learning mirrors real-life contexts, equips them with practical and useful skills, and addresses topics that are relevant and applicable to their lives outside of the University.
We all know that no book can teach someone how to be a good doctor, teacher, lawyer, or businessperson. The only way to learn these things is, by doing them.
This is what this University's teaching will be all about in the next coming years. This is a new line of education, but grounded in a great staff work ethic, customer care, and attention to detail geared towards excellence in the education of our students.
It is also important to note that at this University, we just do not educate. We conduct a psychometric test to know the passion, interests, natural abilities and strength and weaknesses of our students; and where they want to be in the next 10 years.
Based on this, we are intentional in handling each student's abilities and interests, to personalize their education and later match them with employers. So if you are a student out there, and you need to be part of this new trend of higher education, you just cannot miss this opportunity. Please join us, before we close the February/ March intake; especially under the limited available bursaries.
We have outstanding examples of how well we take care of what we promise. During this year's graduation, we have outstanding students who are already hired, even before they graduate.
Allow me to cite a few examples of students who have managed to live to the principles and quality of education we instill in students here.
For instance, Julie Nakasinde joined us three years ago to do her Bachelor's Degree in Tourism and Hospitality and has ended up working with us at Victoria University. But before then, apart from her internship, just like many students in her class, she has had an opportunity to work at Speke Resort Munyonyo, and Speke Apartments; in almost all departments. This has given her and the peers in that class, exclusive access to these establishments' workstations, learning from the best and experienced staff.
Remember, Speke Resort Munyonyo, and Speke Apartments; are some of the best business establishments in this country. Nakasinde says, "It's been fun and exciting every other day to be a student in this university.
When you learn through discovery and skills acquisition; especially from experienced mentors in the lecture rooms and at workplaces; your future is cut out even before you graduate."
She adds, "I have always heard that students go hunting for jobs after graduation. This was never the case for me and many of my classmates who are set to graduate from this University, this month. Instead of scavenging for jobs, we just have to ask for permission to get take a day-off from our workstations to attend our graduation ceremony," she says. Another student; Rebecca Ssuubi, started a Bachelors in Food Nutrition who graduated in 2019. She was retained, as a teaching assistant and is now finalizing her Master's Degree in Public Health.
She is still a facilitator at this university, a Fitness Coach to Uganda on television, a Nutrition Specialist, and an entrepreneur; on her rise. With this quality of education, all students deserve to access it. But we also know it has not been very easy in terms of earnings for so many families in this country
It is for this reason Victoria University is glad to announce Full Scholarships to Five students, who have had peculiar financial challenges, yet they have a passion for learning and contributing to the changing of the society.
The five students include:  Feddy Akello, Sylvester Lulenzi, David Siya, Moses Ssemitego and Swabrah Mbawomye.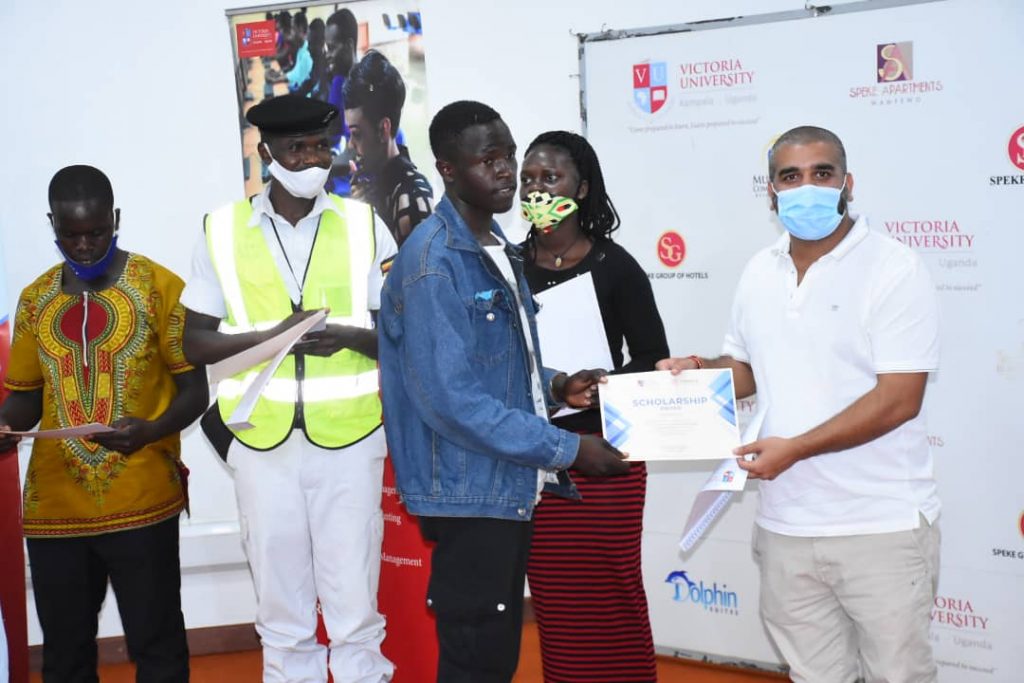 Every academic year, depending on the various situations and opportunities, this University will be opening up, close to 100 full scholarships, to selected students, under different categories.
However, we also know that there are several other students who are struggling to secure tuition, to ably join this University. The Ruparelia Foundation has given Victoria University bursaries which we are using to make education accessible to all Ugandans; by granting a 60% reduction of tuition.
There are only a few slots left, of the 1,000 slots for this February to March intake. We will give out only 600 bursaries for Applicants in a Direct Entry Procedure; and 400 other slots will be offered through the Additional Quota, awarded through selected leaders, in communities around the country.
It is important, that before you deal with any leader in your community, stating that he or she acting on our behalf; make sure you contact Victoria University to confirm the authenticity.
No student is allowed to pay any amount of money to these leaders in your community. Once recommended by any local leader in your community or district, you will be required to follow up, for your admission, at our head office, at Victoria University, in Kampala. Please take this caution seriously.
The bursaries, are open to all students around the country, who meet the required minimum set standards, as you will be guided by the University Staff.